"The Gallant Little 7th"
author John Latty.


The Book is in the hands of the author and ready to ship to you.
Look at the bottom of this page for additional information.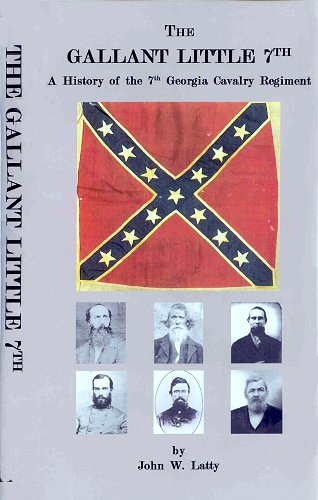 Having been thoroughly researched, it is a true historical document. Many miles and many months are behind the work you will find in this book. The information within the book is backed by complete documentation. In addition, it is supported by a tremendous index.

The 7th Georgia Cavalry Regiment had a remarkable, though very brief, existence about which very little is known and almost nothing has been written. Its genesis was the consolidation of three smaller units which were together for only eight months before again being divided in a hopeless effort to obtain desperately needed horses. During the months they were together the men of the 7th endured the privations and horrors that were the lot of Lee's depleted Army of Northern Virginia in its death throes.
In this book, at least a part of the history of that noble regiment is told. The author has relied upon the words of the soldiers and others which have been recorded and preserved to present as accurate an account as possible of those events. Through those words, the experiences - fear, hope, loneliness, hunger, suffering, defeat, resignation, and renewal - come alive for the reader.
In addition to the recounting of the military operations of the 7th, there are other intriguing stories told. The first commander of the regiment, Col. William White, a legendary military figure in Georgia's history, was assassinated by members of his battalion before he could assume that command. The main conspirator would be elected to the U.S. House of Representatives after the war and tried for murder in 1875. In the final days of the war members of the regiment fought on two major fronts, those who were mounted in Virginia, and those who were dismounted in Savannah and the Carolinas. At the end, the mounted men became a crucial part of General Martin Gary's rear guard that covered Lee's doomed attempt to escape Grant's massive army as he fled Richmond. Forty-three of those men comprised the only Georgia cavalry unit to officially surrender at Appomattox, while many of the dismounted men surrendered with General Johnston in North Carolina.
In the midst of these fascinating accounts of the general actions of the 7th, the author intersperses the experiences of the individual troopers. Reports of their wounding, capture and its consequent suffering, and death from wounds and disease, are included from the various available sources.
As you read this story you will be informed and, hopefully, forever touched by the lives and selfless service of the men of the 7th Regiment, Georgia Cavalry.
The book is available now...
... 7" by 10", hard back, about 250 pages
Price $30.00 ($25 plus shipping of $5).
Contact John Latty for more information via email - johnwlatty@bellsouth.net or by telephone (770) 536-8943.