Harris Kollock Harrison born January 13, 1827, at Monteith Plantation, Chatham County, Georgia. Married: Sarah Elinor Elkins on November 1, 1849.

In December 1856, Harris Kollock Harrison administered the estate of Phillip Ulmer, selling the plantation Mulberry Grove, famous as the place where Eli Whitney invented his cotton gin.

The Harrison family have quite a military background.

Harris Kollock Harrison's father, William S. Harrison, commanded the 8th Company (Cherokee Hill District), Georgia Militia, from 1807 to 1811, the 2nd (Chatham County) Battalion, Georgia Militia, from 1811 to 1817, and the 35th Regiment, Georgia Militia, from 1817 to 1830. Col. Harrison was active in the defense of Savannah against the Royal Navy during the War of 1812.

Harris Kollock Harrison's older brother, George Paul Harrison, Sr., commanded the 1st Brigade, Georgia Militia, from 1856 to 1861. General Harrison's son, George Paul Harrison, Jr., was the Colonel of the 32nd Georgia Infantry and Commanding General of G. P. Harrison's Brigade in the defense of Charleston Harbor, the Battle of Olustee, and the Campaign in the Carolinas.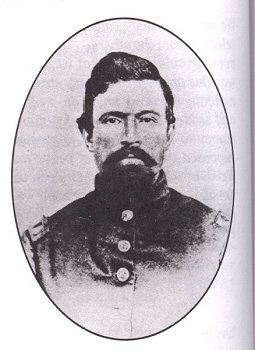 Harris Kollock Harrison served as the Colonel of the 35th Regiment, Georgia Militia, from January 19th, 1861, until he joined Banks' Partisan Rangers. Captain Harris K. Harrison joined as Capt. Co. B, 21st Battalion, Georgia Cavalry and transferred to Co. E, 7th Regiment, Georgia Cavalry February 13, 1864.
Capt. Harrison was an excellent leader and a dedicated soldier.



The following is a report on just one of his encounters with the enemy.



DECEMBER 5, 1863.-Affair at Murrell's Inlet, S. C.
Report of Brig. Gem. J. H. Trapier, C. S. Army, commanding Fourth Military District.
HDQRS. FOURTH MILITARY DISTRICT SOUTH CAROLINA,
Georgetown, December 8, 1863.
GENERAL:
On the 5th instant a party of the enemy (16 in number) from the man-of-war blockading off Murrell's [or Murray's] Inlet, landed upon Magnolia Beach, near that inlet, for the purpose, as is supposed, of burning a small schooner lying therein. They were promptly and vigorously attacked by a portion of Company B, Twenty-first Battalion Georgia Cavalry, under the command of Captain [H. K.] Harrison, and the whole party, with but one exception, taken, with most of their arms. Two of the men are badly wounded. I regret to add that Captain Harrison lost 1 man killed and 2 severely wounded. Fourteen of the prisoners have been conducted to these headquarters. Twelve of them will be sent hence to-morrow to the headquarters of the commanding general. They consist of 3 officers and 9 men. The 2 wounded men are retained in hospital. The missing prisoner is not yet officially accounted for.
I am, very respectfully, your obedient servant,
J.H. TRAPIER,
Brigadier- General, Commanding.
Brig. Gen. THOMAS JORDAN,
Chief of Staff, &c., Charleston, S. C.

[Indorsement.]
DECEMBER 11, 1863.
Compliment Captain Harrison and men for their success.
G.T. BEAUREGARD,
General, Commanding.
____________________________________
Now part of 7th Georgia Cavalry in Virginia, Capt. Harrison was captured at Trevillian Station, Va. June 11, 1864. On June 20, 1864 he arrived at Point Lookout from Fortress Monroe. He was then transferred to Fort Delaware on June 23, 1864.
On August 20, 1864 Capt. Harrison was sent to Charleston, S.C. and there at Charleston Harbor began his experiences as one of the "Immortal 600". In October he and the rest of the "600" were transferred to Fort Pulaski, Ga. and spent 3 months there under horrible conditions.
"Harris Kollock was released in the exchange of Prisoners of War by order of U.S. Col. Mulford. He reached Savannah, Ga. just three days before the city fell.
During his absence at war, Harris Kollock's brother had sold the plantation for Confederate money, which was worthless, and when Harris Kollock returned from war, there was nothing to start a new life in Georgia.
Re-united with his wife and children at Sarah's sister's home, he began at once to outfit a wagon with food and necessities in preparation for fleeing from the city. Heading north in the wagon, they followed the Savannah River. They crossed the River early one Wednesday morning - on the first pontoon across the river. A friend, operator of a steamboat, picked them up - wagon and mules and all and carried them about one hundred miles up the Savannah River. After transporting them this far, their friend added a generous supply of groceries to their slim rations which soon proved insufficient for the long journey ahead.
"They reached the home of Harris Kollock's sister, Harriet Harrison Bullard and her husband William, in Burke Co., Ga. Much damage by Sherman's Army had been done there. "From Burke County, they journeyed to Washington County, where they stayed two years living on the plantation of his sister, Susan Harrison Hines and her husband, Joe."
"In 1866, Harris Kollock and wife, Sarah, with the children, set out for Texas. "His sister, Mary Harrison Forrester and husband, William had already settled in Grimes County, Texas. Knowing this, prompted the family go to Navasota, Grimes County, Texas. "They soon moved to a rice farm two miles east of Navasota, where they lived for two years. . . ."
Harris Kollock Harrison died March 11, 1873, in Bell County, Texas; buried in Moffet Cemetery, Bell County, Texas.

Information provided by James Allen Knechtmann, great (4x) nephew to Capt. Harris Kollock Harrison.
Back to Roster